The airport in Mexico City is called Benito Juárez and is located in the north-east of the City, roughly 25.6 km from the Radisson Paraiso Hotel (Radisson Paraiso Hotel Mexico City to Mexico City International Airport) and 27.1 km from the Congress venue (Universidad Intercontinental Campus Sur to Mexico City International Airport). The airport has two terminals, both of which have safe taxi services that start at about 350 MXN (roughly 18 USD). Please click here for further information. There are also buses and the underground, but taxis are recommended given that the Congress is in the south of the City. The travel agents (see details below) offer taxi bookings in advance for those who booked their flights through them. Hotels also usually offer this service; for instance, the Radisson Paraiso Hotel offers this service through their concierge, starting from 370 MXN for anyone with a reservation – simply provide your flight details. Another option is to use Uber taxis via the mobile app (if one is connected to the airport Internet service), which is usually a cheaper option than the official airport taxis. For further information regarding other travel services, please click here (click on transportation).
We have sourced a number of recommended hotels close to the Congress venue (see below). The only hotel that we can recommend that is right next to the university is the Inn Sur, but it is very low budget and not as comfortable as the other hotels listed here.
The Radisson Paraiso Hotel has kindly offered a special rate for Congress attendees of 1517.27 MXN (about 80 USD) for a single room (but allowing two people per room). To receive this discount, please email a copy of your confirmation email (after registering for the Congress) to Ms. Denisse Luna directly at the Radisson, and then follow up with a phone call if you wish to provide your credit card details over the phone rather than by email:
Email:  asistente@radisson.com.mx
Tels. + (52) 55 59 27 59 59 Ext: 1275  or  direct: +52 59276969
A shuttle service will be available to provide transport from the Radisson Paraiso Hoteto the Congress venue.
The local organisers recommend the following travel agent company (whose employees can speak English) for those who would like assistance or advice with travel arrangements, local tours and/or day trips:
Teacy Tur, S. A.
Lic. Adriana Reyes
tercyt1@prodigy.net.mx
Tels. 56521058, 56527001, 55685268
Fax 56526810
The Congress organizers are happy to respond to requests for additional guidance. Please email support@npsa-association.org.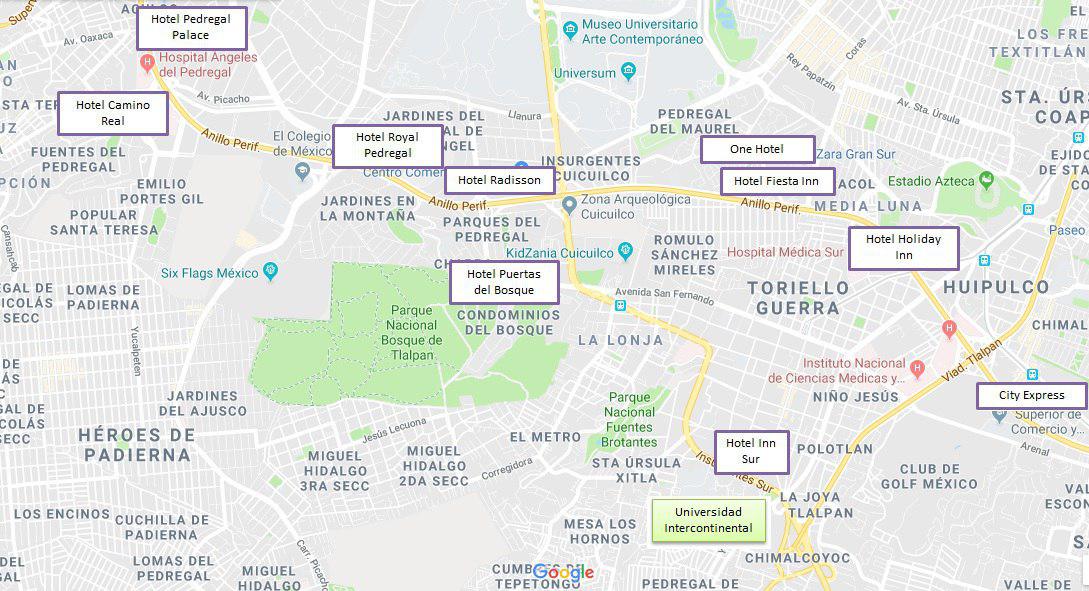 Radisson Paraiso Hotel
Cuspide 53, Parques del Pedregal, 14020 Ciudad de México, CDMX, Mexico
+52 55 5927 5959
https://www.radisson.com/mexico-city-hotel-df-14010/mexicoci
Hotel Royal Pedregal
Periferico Sur 4363, Jardines en la Montaña, 14210 Ciudad de México, CDMX, Mexico
+52 55 5449 4000
https://www.hotelesroyal.com.mx/
Hotel Inn Sur
Av de los Insurgentes Sur 4265, Sta Úrsula Xitla, 14420 Ciudad de México, CDMX, Mexico
+52 55 5513 3738
http://www.innsurhotel.com.mx/
Hotel Puertas del Bosque
Camino a Santa Teresa 480-2, Tlalpan, El Bosque, 14266 Ciudad de México, CDMX, Mexico
+52 55 5171 5243
http://www.puertasdelbosque.com/
Hotel City Express
Blvd. Adolfo Ruíz Cortines No.4860, Col. Guadalupe, 14388 Tlalpan, CDMX, Mexico
+52 55 5483 6700
https://www.cityexpress.com/plus/hoteles-mexico/ciudad-de-mexico/tlalpan/periferico-sur
Hotel Fiesta Inn
Periferico Sur 5530, Pedregal de Carrasco, 04700 Ciudad de México, CDMX, Mexico
+52 55 5096 9300
http://www.fiestainn.com/es/home
Hotel Pedregal Palace
Periferico Sur 3487, San Jerónimo Lídice, San Jerónimo Aculco, 10400 Ciudad de México, CDMX, Mexico
+52 55 5681 1290
https://www.pedregalpalace.com.mx/
Hotel Camino Real Pedregal
Periferico Sur 3647, Heroes de Padierna, Héroes de Padierna, 10700 Ciudad de México, CDMX, Mexico
+52 55 5449 3650
https://www.caminoreal.com/Hotels/Details/CR/PED

Additional resources
Airbnb also offer a large range of possibilities. For further details, please click here.