Members of the Society register at a lower rate.
Not sure if you are a current member?  Click here to check. 
Not a current member? Join (or renew) as part of your Congress registration.
Attendees from Latin America (including Puerto Ricans) register at a discounted rate until May 15
All students register at one very low price – student tickets are limited
Group discount – an additional 15% off "Member Rate"
registrations, for groups of 3-8 people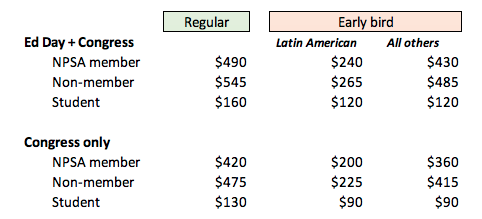 Registration includes:  Thursday night reception; morning and afternoon coffee breaks; box lunches.
Additional items:
Optional Dinner:  Delicious Caribbean food – and open bar! – Friday night at Chloé in the Condado neighborhood, with a balcony overlooking the ocean.
Post-Congress discussion:  A facilitated conversation Sunday morning after the Congress ends, to explore ideas and make connections with colleagues.  Seating is limited.
Early bird rates are in effect through June 1, and will be shown when you click through to the registration pages.
Optional discounted rates for attendees from Latin America
(including Puerto Rico):  Begin registration here