.
We thought that the following online resources would be of interest to our membership. Colleagues from our NPSA community have kindly made these suggestions. Please note that these resources are hosted by outside organisations and are not a part of our own NPSA offerings. You are welcome to send any additional suggestions for posting to Dr Ross Balchin at: rbalchin@npsa-association.org.
New online courses from Mark Solms
The Society is pleased to let you know about new online courses from Mark Solms, hosted independently on the Teachable.com platform. If you have questions or technical difficulties, please contact info@freud.today. To access these courses, please click here.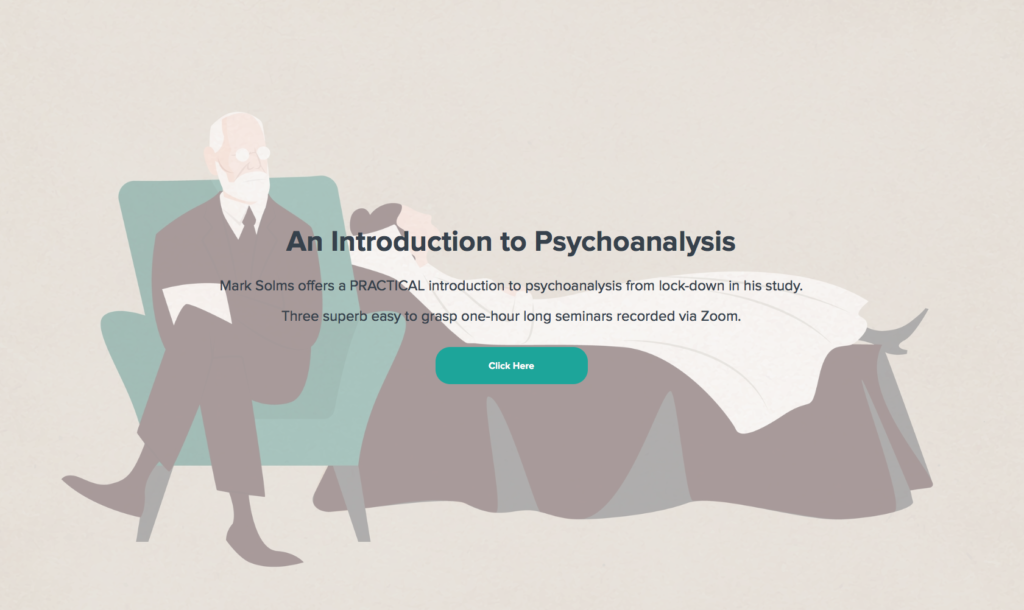 .


Resources from Giles Yeates

We are pleased to forward some online resources from Giles Yeates, International Neuropsychoanalysis Society member and past NPSA grantee. He is a leader in clinical neuropsychoanalysis when it comes to working with survivors of brain injury and their loved ones.

Resources for Survivors/Their Significant Others (videos and information leaflets):

http://www.ripplingminds.com/resources-for-survivors–significant-others.html

Resources for Professionals (free videos, articles, links):

http://www.ripplingminds.com/resources-for-professionals.html

In addition, subscriptions to the following online courses:

Individual Psychological Therapies Following Brain Injury

www.udemy.com/course/individual-psychological-therapies-with-brain-injury/?referralCode=6649EA1287E7FF2A7D70

Social Cognition Rehabilitation in Neurological Conditions

https://www.udemy.com/course/social-cognition-rehabilitation-for-neurological-conditions/?referralCode=60BB76EEDA17DB851468

Neuropsychoanalysis in Neuro-Rehabilitation

www.udemy.com/course/neuropsychoanalysis-within-neuro-rehabilitation/?referralCode=C00139E4936EDCE88C1A

Family, Couples & Relationship Work in Rehabilitation

www.udemy.com/course/family-couples-relationship-work-in-neuro-rehabilitation/?referralCode=FA7D11336E533AC1CB1B

The Rehabilitation of Love in Neuro-Rehabilitation

www.udemy.com/course/the-rehabilitation-of-love-in-neuro-rehabilitation/?referralCode=37D6DADD539D2122D756

Tai Chi in Neuro-Rehabilitation

http://www.ripplingminds.com/professional-online-learning.html

Dr Giles Yeates
DClinPsych, MSc (Clin Neuro), AFBPS, C Psychol
Consultant Clinical Neuropsychologist & Tai Ji Instructor
Chair, Thames Valley Acquired Brain Injury Forum
Editor, Neuro-Disability & Psychotherapy  & Brain Injury Series (Routledge)
Researcher, MOReS, Oxford Brookes University

00447816 868100
drgilesyeates@gmail.com
https://www.linkedin.com/in/dr-giles-yeates-5b3016178/

Rippling Minds
https://twitter.com/DrYeates
https://www.facebook.com/Rippling-Minds-112224580213629/
www.ripplingminds.com

NeuroFlow
https://twitter.com/NeuroFlowTaiChi
https://www.facebook.com/NeuroFlow-Tai-Chi-1875885455991384/
www.neuro-flowgroup.com

MOReS, Oxford Brookes University
https://www.brookes.ac.uk/shssw/research/centres-and-groups/mores/

Join the NEURORELS listserv for regular updates:
https://www.jiscmail.ac.uk/cgi-bin/webadmin?A0=NEURORELS