Benedetta D'Intino Foundation International Conference
Depression and the depressive position in early childhood: Theoretical and clinical developments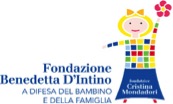 Participation
The event is open to doctors, psychologists, psychoanalysts, psychotherapists, pediatricians and other childcare professionals.
The language of the conference will be Italian. Dr Mark Solms' keynote presentation will be in English with Italian subtitles. Simultaneous translation will be provided during the speaker-audience debate. 
Introduction: "Even in the earliest years of life, children can experience de-pression, namely, a collapse of their vital instincts. What role does the therapist play in sessions with young patients and their caregivers in transforming unprocessed anxieties and fears? The integration of sadness and vitality is a fundamental stage of psychic maturation, which also makes the often-explosive onset of puberty more manageable. The conference will explore these questions and how we can use the tools of our research, observation, listening and words to help and understand both children and their families".
Please click here to view the entire programme.
Registration and payment: To register please click here and fill out the form.
Please send your payment receipt to formazione@benedettadintino.it
Payment should be made by bank transfer to:
Banca Prossima 05000 Branch of Milan
Beneficiary: Fondazione Benedetta D'Intino
IBAN: IT86 C033 5901 60010000 0019 714
Reason for payment: first name + last name* study day 02-03/10/2020 (*please indicate the name and surname of the member)
For further details, please contact:
formazione@benedettadintino.it