Dialogues on Aggression: An Urgent Interdisciplinary Forum
Gradations of "Evil": An In-Depth Review of Distinct Motivational Subtypes of Violent Offenders

Dialogues on Aggression
This online series, hosted by the Neuropsychoanalysis Association, convenes experts from a number of disciplines – evolutionary biology, neuroscience, psychodynamic psychiatry, developmental psychology, sociology and criminology, for a fascinating exploration of this timely topic. Aggression is a fundamental human impulse, and violence an extreme manifestation of it. While aggression is an enduring and universal phenomenon, it has taken different forms throughout history, and in different cultural and societal contexts. The unique challenges we face in the 21st century require more community and global collaboration than ever before. And yet, the stability and harmony of families, communities, and society at large are dangerously undermined by the rise of interpersonal violence, mass shootings, xenophobia, and radicalization.
Gary Brucato, Ph.D.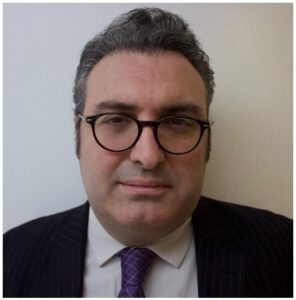 Registration is now closed.
Please click here to view the video of this event.
This webinar will be approximately two hours long.
Start time in selected time zones

Gradations of "Evil": An In-depth Review of Distinct Motivational Subtypes of Violent Offenders
Dr. Gary Brucato, a clinical psychologist, researcher and author in the areas of violence and psychosis, has worked with forensic expert Dr. Michael H. Stone to study and delineate distinct profiles of persons who engage in a wide range of violent behaviors, exploring the interplay of individual circumstances, coping skills, personality features, and motive. In this talk, Dr. Brucato discusses the concept of "evil" as it pertains to severe acts of aggression and cruelty, and provides an in-depth review of the various subtypes of violent offenders. These range from acts with more "human" motivations, such as homicides in self-defense and crimes of passion, to violence associated with personalities characterized by various levels of psychopathic and sadistic traits and behaviors. He also discusses the effects of sociological and historical factors in the post-1960s Western world that may have set the stage for an era of what Stone and Brucato have termed "new" evil, characterized by (1) crimes that were not possible before the advent of various technologies, such as the Internet and social media, and the wide availability to civilians of semiautomatic weapons; (2) violent acts not known to have ever occurred before the 1960s; (3) offenses, such as serial sexual homicide, which became far more common during this period; and (4) crimes which have been common across history, but which appear to have taken on new levels of audacity or cruelty in the post-1960s era, which Stone and Brucato have attributed to cultural changes affecting personality and behavior.
This talk will also feature special guest Michael Stone, M.D.
Bio
Dr. Brucato, who earned his Ph.D. at the New School for Social Research in New York City, is a clinical psychologist, researcher and author in the areas of psychotic illness and violence. Dr. Brucato has over two decades of clinical experience, having trained at Creedmoor Psychiatric Center; Beth Israel Medical Center; Bronx Lebanon Hospital Center; Long Island Jewish/Zucker Hillside Hospital Center; and Mount Sinai Services/Elmhurst Hospital Center, including work on the Riker's Island female prisoner unit at EHC, and been employed from 2008-2012 at Zucker Hillside's Recognition and Prevention program for early psychosis. He has also recently joined a private group practice in Manhattan.
Dr. Brucato is presently an Adjunct Associate Research Scientist in the Department of Psychiatry at Columbia University Irving Medical Center and a Research Scientist at the New York State Psychiatric Institute. Since 2013, he has served as the Assistant Director of the Center of Prevention and Evaluation at CUIMC/NYSPI, where he clinically evaluates and conducts grant-funded research with individuals experiencing early psychotic symptoms, develops novel screening measures for violence, and has analyzed risk factors and motivations for mass murder. He also directs COPE's psychology externship program and oversees community outreach, teaching about psychosis and violence risk at academic sites, hospitals and clinics throughout the Tri-State area. COPE, in conjunction with several other worldwide psychosis programs, has helped to define and elucidate the clinical and biological features of the Attenuated Psychosis Syndrome (APS) diagnosis, included in the appendix of the DSM-5 as a category warranting further research. Drs. Brucato and Girgis have developed a novel theoretical model regarding the relationship between early psychosis and potential for aggression.
Additionally, Dr. Brucato conducts psychiatric medical leave evaluations related to psychosis, suicidality and violence, for CUNY students, and is a consultant on forensic research by Dr. Ann W. Burgess and colleagues at Boston College, in the areas of homicide, sex crimes, dismemberment, and the insanity plea. 
Dr. Brucato coauthored the books The New Evil: Understanding the Emergence of Modern Violent Crime (2019) with Dr. Michael H. Stone and Understanding and Caring for People with Schizophrenia: Fifteen Clinical Cases (2020) with Drs. Ragy Girgis and Jeffrey Lieberman. He has written nearly 50 articles on the phenomenology and prediction of psychosis and violence for peer-reviewed journals. Dr. Brucato has been active in the media, being featured in or consulted on true crime documentaries, most recently The Serial Psyche for Reelz and Helter Skelter: An American Myth for Epix, as well as for news programs, magazines and podcasts on the subjects of psychotic illness; severe personality disorders; serial, mass and spree murder; and sexual assault. He has recently been invited to be a guest blogger for Psychology Today.
CPD credits: 2