Reunión de Grupo de Estudio de Neuropsicoanálisis (Mexico City) – February 1, 2020
Mexico City Neuropsychoanalysis Group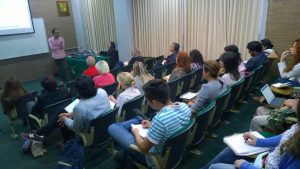 Grupo de Neuropsicoanálisis de la Ciudad de México
Las reuniones de grupo de estudio se llevan a cabo una vez al mes en las instalaciones de la Universidad Intercontinental. Las sesiones no tienen costo, todos son bienvenidos.
Contamos con transmisión via Skype y Google Hangouts exclusivamente para personas fuera de la Ciudad de México. El número de invitados a distancia es limitado. Favor de contactarnos para acordar la sesión.
El ello consciente y sus implicaciones en el trabajo clínico – Segunda parte

La reunión del sábado 25 de enero contó con la asistencia de un inquieto público que solicitó dividir el tema El ello consciente y sus implicaciones en el trabajo clínico en dos partes para su revisión a profundidad. De tal forma, se abordarán en particular aspectos relacionados con las (re)presentaciones-cosa y las (re)presentaciones-palabra en función del ello consciente y su aplicación en clínica. Las personas que no hayan asistido a la reunión anterior podrán integrarse al grupo.
La entrada es libre. Para mayor información, contactar a npcdmexico@gmail.com.
Febrero 1 de 2020, de 11 a 13 horas
Universidad Intercontinental
Salón 304, Edificio América

Ciudad de México
Más información, contactar a Daniela Flores Mosri en ppsicoanaliticadfm@gmail.com
https://www.facebook.com/groups/gruponpsamexico/
https://www.facebook.com/marksolmsmexico
—–
These study group sessions are held once a month at the Universidad Intercontinental. Entrance is free and all are welcome. Sessions are held in Spanish.
 
This group offers platforms for people from outside Mexico City to connect – either via Google Hangouts or via Skype. Please send an email to npcdmexico@gmail.com if you are interested.
 
This session will cover the second part of the topic "The conscious id and its implications for clinical work".