Reunión de Grupo de Estudio de Neuropsicoanálisis (Mexico City) – January 25, 2020
Mexico City Neuropsychoanalysis Group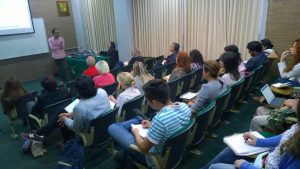 Grupo de Neuropsicoanálisis de la Ciudad de México
Las reuniones de grupo de estudio se llevan a cabo una vez al mes en las instalaciones de la Universidad Intercontinental. Las sesiones no tienen costo, todos son bienvenidos.
Contamos con transmisión via Skype y Google Hangouts exclusivamente para personas fuera de la Ciudad de México. El número de invitados a distancia es limitado. Favor de contactarnos para acordar la sesión.
El ello consciente y sus implicaciones en el trabajo clínico
La sesión revisará las premisas básicas sobre las que descansa la propuesta de Mark Solms sobre el ello consciente, incluyendo el funcionamiento del sistema reticular ascendente de activación, los distintos sistemas de memoria, así como el papel de los instintos entre otros. Se contrastarán los aspectos neurobiológicos con las "re"-presentaciones-cosa y las "re"-presentaciones-palabra esenciales en el tratamiento psicoanalítico. ¿Es vigente tener como meta terapéutica hacer consciente lo inconsciente? O bien ¿deberíamos apuntar hacia hacer inconsciente lo consciente? Se asociarán potenciales respuestas al principio de energía libre desde la perspectiva de Karl Friston.
La entrada es libre. Para mayor información, contactar a npcdmexico@gmail.com.
Enero 25 de 2020, de 11 a 13 horas
Universidad Intercontinental
Auditorio Francisco Xavier (planta baja del edificio Asia)
Ciudad de México
Más información, contactar a Daniela Flores Mosri en ppsicoanaliticadfm@gmail.com
https://www.facebook.com/groups/gruponpsamexico/
https://www.facebook.com/marksolmsmexico
—–
These study group sessions are held once a month at the Universidad Intercontinental. Entrance is free and all are welcome. Sessions are held in Spanish.
 
This group offers platforms for people from outside Mexico City to connect – either via Google Hangouts or via Skype. Please send an email to npcdmexico@gmail.com if you are interested.
 
The January session will cover the topic "The conscious id and its implications for clinical work".