Reunión de Grupo de Estudio de Neuropsicoanálisis (Mexico City) – November 23, 2019
Mexico City Neuropsychoanalysis Group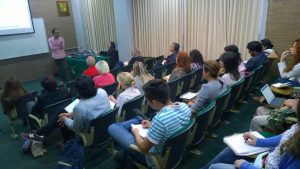 Grupo de Neuropsicoanálisis de la Ciudad de México
Las reuniones de grupo de estudio se llevan a cabo una vez al mes en las instalaciones de la Universidad Intercontinental. Las sesiones no tienen costo, todos son bienvenidos.
Contamos con transmisión via Skype y Google Hangouts para personas fuera de la Ciudad de México. El número de invitados a distancia es limitado. Favor de contactarnos para acordar la sesión.
En esta ocasión el Dr. Leonardo Ruiz Flores, neuropsiquiatra egresado del Instituto Nacional de Neurología y Neurocirugía, presentará el tema "Giro del cíngulo y su relación con la memoria emocional".
El giro del cíngulo es una región anatómica perteneciente al sistema límbico.  Sus funciones están íntimamente relacionadas a fenómenos afectivos y procesos de memoria emocional. Esta sesión se acompañará de ejemplos clínicos sobre pacientes con lesiones cingulares y permitirá la discusión de su importancia en el estudio neuropsicoanalítico.
Dr. Leonardo Ruiz Flores
×     Médico cirujano egresado de la Facultad Mexicana de Medicina de la Salle.
×    Especialidad en Psiquiatría y Posgrado de alta especialidad en Neuropsiquiatría por parte del Instituto Nacional de Neurología y Neurocirugía (INNN).
×    Maestría en Ciencias médicas por parte de la Universidad Nacional Autónoma de México.
×  Master en Neurospychopharmacology por parte del Neuroscience Education Institute.
×  Es profesor titular de la materia de psicopatología psiquiátrica, así como de integración de casos clínicos en la Universidad Intercontinental.
La entrada es libre. Para mayor información, contactar a npcdmexico@gmail.com.
Noviembre 23 de 2019, de 11 a 13 horas
Universidad Intercontinental
Auditorio Teilhard de Chardin (Planta baja del edificio Oceanía ii)
Ciudad de México
Más información, contactar a Daniela Flores Mosri en ppsicoanaliticadfm@gmail.com
https://www.facebook.com/groups/gruponpsamexico/
https://www.facebook.com/marksolmsmexico
—–
These study group sessions are held once a month at the Universidad Intercontinental. Entrance is free and all are welcome. Sessions are held in Spanish.
 
This group offers platforms for people from outside Mexico City to connect – either via Google Hangouts or via Skype. Please send an email to npcdmexico@gmail.com if you are interested.
 
The November session will cover the topic "The cingulate gyrus and emotional memory". The guest speaker is neuropsychiatrist Leonardo Ruiz Flores.