The Age of Anxiety
Public Engagement Event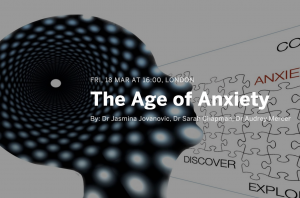 The Age of Anxiety is a free public event that is taking place at the Wellcome Collection in London during Brain Awareness Week, a global campaign to increase public awareness of the progress and benefits of brain research.
The event includes consultation groups and workshops focusing on specific aspects of anxiety disorders, invited lectures, and open discussion forum. 
This public engagement project aims to engage patients, members of the public and experts from different fields, including physicians, neuroscientists and psychologists, in discussion focusing on anxiety disorders. Dr Katerina Fotopoulou, Director of the London Neuropsychoanalysis Centre, will give a short talk on how anxiety affects the body.
Programme
4-4:30 pm        Start/Activities
4:30-5 pm        Welcome Dr Jasmina Jovanovic – UCL School of Pharmacy
                        Short Talks: Pathways to Recovery Melanie Davis &
                                                  The REST Project Jilly Moore – Mind in Camden Charity
5-5:30 pm         Talk: Past, Current and Future Drug Treatments for Anxiety 
                            Dr Gerry Dawson – P1vital
5:30-6 pm        Coffee /Activities
6-6:50 pm        Workshop: Parenting and Anxiety
                            Dr Jennifer Allen – UCL Institute of Education
                            Dr Delia Belleli – Dundee University
6-6:50 pm        Workshop: Body Perception in Anxiety
                            Dr Aikaterini Fotopoulou – UCL Psychology
                            Dr Sarah Chapman – UCL School of Pharmacy
7-7:50 pm         Workshop: Fear versus Resilience
                            Prof Naz Derakshan – Birkbeck Psychology
                            Dr Nick Grey – South London and Maudsley NHS Foundation Trust
7-7:50 pm         Workshop Habits and Biology of Anxiety
                            Dr Colette Hirsch – King's College Institute of Psychiatry
                            Dr Audrey Mercer – UCL School of Pharmacy
8-8:30 pm         Talk: Anxiety Treatments
                             Prof Steve Pilling – UCL Psychology
8:30-9:30 pm     Open Forum Discussion
                              Leader: Prof David Taylor – UCL School of Pharmacy
Sponsored by UCL School of Pharmacy and Society for Neuroscience London Chapter 
WHEN AND WHERE
Friday, 18 March 2016 from 16:00 to 21:30 (GMT)
Wellcome Collection – 183 Euston Road London NW1 2BE GB