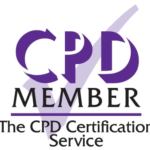 Continuing Professional Development (CPD) Accreditation
Our NPSA Learning courses, and many of our events, both live and online, are accredited for CPDs and certified by The CPD Certification Service. The number of credits offered per course or event varies according to their length.
Whilst these credits have been accepted by numerous clinical licensing boards in various countries, the International Neuropsychoanalysis Society does not guarantee that they will be accepted by your specific licensing body. Please contact your professional licensing board, if you are in doubt, in order to determine whether the credits will be accepted.
NPSA Clinical Register
Completion of any accredited course of 1 credit or more fulfills the yearly requirement for ongoing neuropsychoanalytic education, one of the criteria for annual renewal of listing on the Clinical Register of the International Neuropsychoanalysis Society. The Clinical Register lists members of the Society who have undergone specialist training, based in neuropsychoanalytic knowledge, that supplements their training in a clinical discipline. Please click here for further information about the Clinical Register.
To request a CPD certificate, please email Dr. Ross Balchin, Program Director (rbalchin@npsa-association.org).